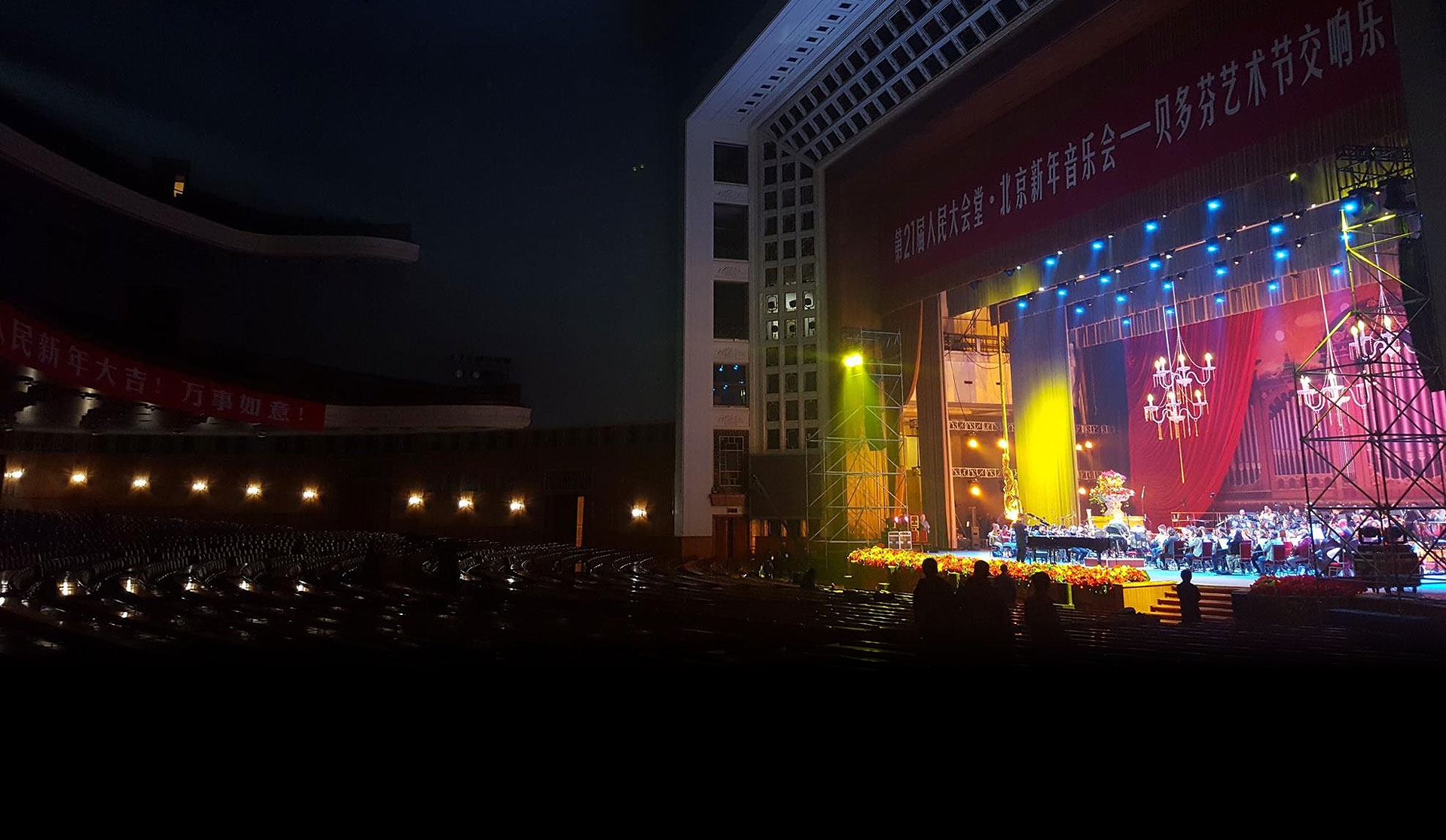 31.12.2016 – 5.1.2017, tour in China
31.12.2016 – Beijing People's Great Hall
Program:
Ludwig van Beethoven – Die Geschöpfe des Prometheus op. 43
Ludwig van Beethoven – IV symfonia B-dur op. 60
Ludwig van Beethoven – V Koncert fortepianowy Es-dur op. 73
Ludwig van Beethoven – VII Symfonia A-dur op. 92
Performers:
Beethoven Academy Orchestra
Wu Muye – piano
Krzysztof Penderecki – conductor
---

Koncert 31.12.2016 współorganizowany przez Culture.pl
Culture.pl to flagowa marka Instytutu Adama Mickiewicza – narodowej instytucji kultury, której misją jest budowa i komunikacja wymiaru kulturalnego marki POLSKA poprzez aktywny udział w międzynarodowej wymianie kulturalnej. Organizując inicjatywy i wydarzenia na najwyższym poziomie w dziedzinie muzyki, sztuk wizualnych, teatru, wzornictwa i filmu, Culture.pl działa na rzecz upowszechnienia współczesnej kultury polskiej wśród międzynarodowych odbiorców. Dotychczas zorganizowano 5 550 wydarzeń w 70 krajach dla blisko 53 milionów odbiorców.
Portal Culture.pl jest dostępny w trzech językach: polskim, angielskim i rosyjskim. To codziennie aktualizowany serwis informujący o najciekawszych wydarzeniach związanych z polską kulturą na całym świecie. To także największe i najbardziej wszechstronne źródło wiedzy o polskiej kulturze.
W 2015 roku portal Culture.pl miał ponad 4,6 miliony użytkowników z Polski i świata.
Więcej na: www.asia.culture.pl/pl oraz www.culture.pl
---
1.01.2017 – Xiamen Canjiang Grand Theatre
Program:
Ludwig van Beethoven – Die Geschöpfe des Prometheus op. 43
Fryderyk Chopin – Koncert fortepianowy e-moll op. 11
Ludwig van Beethoven – VII Symfonia A-dur op. 92
Performers:
Beethoven Academy Orchestra
Szymon Nehring – piano
Krzysztof Penderecki – conductor
3.01.2017 – Guangzhou Xinhai Concert Hall
Program:
Ludwig van Beethoven – Die Geschöpfe des Prometheus op. 43
Ludwig van Beethoven – IV symfonia B-dur op. 60
Ludwig van Beethoven – VII Symfonia A-dur op. 92
Performers:
Beethoven Academy Orchestra
Krzysztof Penderecki – conductor
5.01.2017 – Wenzhou Grand Theatre
Program:
Ludwig van Beethoven – Die Geschöpfe des Prometheus op. 43
Fryderyk Chopin – Koncert fortepianowy e-moll op. 11
Ludwig van Beethoven – VII Symfonia A-dur op. 92
Performers:
Orkiestra Akademii Beethovenowskiej
Szymon Nehring – piano
Krzysztof Penderecki – conductor